Mountain Bike Holidays in Tirol
The experts in the selected and tested hotels, regions and bike centers "Mountain Bike Holidays" have recognized the needs of bikers. They are on tour every day with their guests and know that one single offer does not cover everybody's needs. 
In 2016 the "single trail for beginners and advanced" from Isskogel to Gerlos has been opened. From mid-June to mid-October we invite our guests to free gondola rides with the Isskogel and Koenigsleiten cable cars.
Trained athletes and leisure cyclists. Freeriders and mountaineers. Whole families who enjoy bike sports. They all meet in the hotels of "Mountain Bike Holidays". And everyone has individual preferences due to different expectations. Not to forget the ladies on bike, whose number is constantly growing and who expect that their wishes not be neglected.
Inclusive services
Basic services of "Mountain Bike Holidays":
Selected tour suggestions and competent advice
Bike maps of Zillertal valley
Snacks to take along
Après bike snack
Daily Xenofit energy pack included in package offers
Bike hose in the "bike garage" with hot and cold water  
Bike information corner
Bike rack in front of the hotel
Lockable bike storage room on approx. 100 m²
Facilities for drying bike clothes
Shoe dryer for overnight drying of shoes
Laundry service (against fee)
Service corner with tools, bike stand, grease, pump
Pick-up service in case of breakdown (against fee)
Internet point at the hotel reception
Massages on request

Classic
The categories Classic, Elite and Pro depend on the total number of tours with certified guides per day and week.
We have been awarded the category "Classic" by Mountain Bike Holidays. Basic services include:
Cooperation with a bike center or inhouse bike guide
On 4 days per week guided tours in two ability groups
Individual tour suggestions on 6 days per week. Just ask for Bobby at the reception.
Repair service on 5 days per week through a partner company
Facilities for drying clothes and shoes
Lockable bike storage room with bike racks
Service corner with tools, bike stand, grease, pump. Replacement bicycle tubes against fee.
Wellness and relaxation facilities at the hotel
After the tour biker get-together where the bikers can watch pictures from their tour.
The criteria were tested using the quality management system developed by MTS Austria GmbH especially for tourist groups offers. The "O-MTS" is DIN EN ISO 9001:2008 certified by TÜV Austria cert GmbH.
Guided mountain bike tours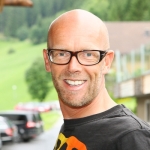 Mountain bike guide Bobby takes you to the best spots and knows the most comfortable mountain huts. In cooperation with Bike-aktiv Gerlos we have put together a great range of tours:
5x per week Bobby and Robert guide 2 ability groups per day on their favourite routes through the mountains. Whether easy or difficult trips, whether mountain or valley… we master the tours with fun and a good mood. The guides are always helpful and advise you on your planned trips and recommend the best mountain huts to stop for refreshments. Minimum number of participants for all tours is 1 person. All tours are free of charge.
Dates:
  29.05.2019 to 03.11.2019
From 24.06. to 20.09.2019 we offer 5 tours in two ability groups per week.
From 29.05. to 23.06. und from 21.09. to 03.11.2019 we offer 5 tours in one ability group per week.
Profile Bobby Roos
Age: will reach the age of 51 in 2019
Weight: carries 80 kg every day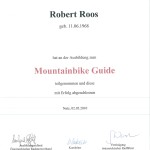 Bike: not yet decided for 2019
Favourite bike tour: panoramic tour, Gerlos – Zell – Gerlos
Favourite food: Pasta, Thai, Curry
Favourite wine: Rosso di Montepulciano, Lenz Moser Blaufränkisch
Music: Soul, Rock, Jazz, Hiphop.
Jobs: Snowboard instructor, high rope course trainer, canyoning guide, ski instructor. Since 1995 boss of the Hotzone School of Snowboarding
Hobbies: Snowboarding, mountain biking, snowboard tours, via ferrata, wind surfing, kite surfing, travelling, cooking, and my dog Rookie.
Bike motto: Don't destroy what you came to enjoy!
Hotel facilities
Lockable bike storage room
Facilities for drying bike clothes & shoe dryer for overnight drying of shoes
Service corner with tools, bike stand, grease, pump. Replacement bicylce tubes against fee.
Bike rack
Bike hose
Laundry service
Bike services
Certified bike guide on site
2 guided bike tours on 5 days per week
Bike programme with themed tours
Opportunity to take a shower and change your clothes on the departure day
Photos or videos of the guided tours will be provided free of charge via stick or download
Individual advice on tours on 6 days per week
Tours are accompanied by certified guides
Repair service on 5 days per week through a partner company
Min. 5 tours incl. GPS data are available on the hotel website. Included are a tour map, tour length, altitude difference, recommended stops for refreshments, attractions, highlights of the tour and the elevation profile
Bike information corner
Tour card
Mountain bikes available to hire
Information and reservation directly at the hotel
Weather information and warnings
Massages
Internet point or WiFi at the hotel
Nutrition
Breakfast buffet with regional products, cereal, fresh fruit
Après bike snack after the tour
Daily Xenofit energy pack included in package offers
Refreshments during the tour as requested by guests (preferrably stops at mountain huts)
Gourmet – all inclusive half board and "Grüne Haube" natural cooking
Information and services of guided tours
Individual advice on registration
Equipment & provision tips (waterproof jacket, drinking bottle, helmet, energy bar)
Tour briefing: explanation of tour
Technique tips during the tour
Panoramic highlights and scenic photo stops
Information about surroundings, people, flora, fauna by expert locals
Information about the landscape and geology
Selected stops for refreshments (reserved tables)
Secret tips, hidden trails for experts
Organisation of shuttle service if necessary
Maximum 10 persons per group
No minimum number of participants
Weather information and warnings
First aid kit
Guides are first aid-trained
Emergency number
Repair set and spare parts
The pace of the group is determined by the slowest rider
Weekly programme

Levels

Family ride: max. altitude difference 400 m, easy downhill rides. (Children from age 8 years, only if accompanied by an adult)
Arena Biker: max. altitude difference 700 m , easy single trails, for trained bikers.
Trail surfer: max. altitude difference 1000 m, moderately difficult single trails, for trail fans.
Enduro light: short uphill rides, difficult trails, gondola, shuttle & Gondel, Shuttle & Busfahrten
Gipfelstürmer: max. altitude difference 1500 m, easy to moderately difficult trails.

Why guided tours?

Secret trails – fun in groups – technique tips – information about nature, culture, mountains – safe with our bike guides in case of breakdown or accident – culinary highlights – no chance to get lost.

Programme 2019:

Montag
Monday
Dienstag
Tuesday
Mittwoch
Wednesday
Donnerstag
Thursday
Freitag
Friday
10:00
Techniktraining 1
Trailsurfer
Trail experience
Family Tour 2
Trailsurfer
Family Tour 1
Teeny Biketour
10:00
Arena Biker
Arena Biker
Enduro light
Arena Biker
Gipfelstürmer
16:00
Techniktraining 2
Mountain bike region Gerlos - Zillertal valley

Gerlos is a high valley at 1250 m above sea level and is part of the Zillertal valley. The place has 5 beautiful side valleys, easy to hike and bike and car-free. Nestled between the National Park Hohe Tauern and the Zillertal Nature Park, Gerlos is easily accessible via the Zillertal valley (Schlitters, exit A12 – Zillertal) or via the Pinzgau (Mittersill, Zell am See). For many people biking is the ultimate vacation and leisure experience: mastering heights to climb the mountains and experience the adventure on hiking routes and designated nature trails on 2 wheels. Forests, mountains, enjoying nature in a very individual way – everybody at their own pace. Whether it is demanding mountain biking that makes your heart beat faster or relaxing, flat valley routes – the possibilities for action, sport and nature are almost limitless. The Zillertal Arena really earns its reputation as a bike arena! Approx. 232 mountain bike kilometres in all levels of difficulty invite for mountain bike tours. Throughout the Zillertal approx. 800 km of bike paths are available for you. The new single trail Wiesenalm "RideAble Project" is waiting to be discovered!
Mountain bike rules
In addition to holidaymakers and sportsmen there is also alpine farming and forestry in our biking area Zillertal Arena. In order to avoid conflicts we ask you to follow the 10 rules below during your mountain bike adventures:  
1) We ride with controlled speed and sight! On trails and forest roads always reckon with obstacles – e.g. road damage, stones, branches, stored wood, grazing livestock, cattle grids, barriers, tractors, forestry or authorized vehicles.
2) We show consideration for hikers! We only overtake at walking pace and make space on narrow trails. A friendly greeting and a thank you greatly contribute to mutual understanding.
3) We accept that the forest roads primarily serve the agricultural and forestry use! We consider temporary road closures. We make room for passing and overtaking vehicles.
4) We close the gates! The livestock on our pastures is an important part of our culture. We certainly do not damage fences and drive slowly and carefully passing animals.
5) We show consideration for nature and wildlife! We do not leave marked paths and trails and we avoid riding on meadows and pastures without path. Also riding at night with lights is off limits.
6) We will leave no waste – a matter of honor!
7) We leave no trace! No blocked rear wheels and drift-turns as this will damage the trail. No detours in difficult passages or separator at switchbacks! Caution on wet trails – the erosion is even stronger here.
8) We always wear a helmet and ride with intact equipment!
9) We keep quiet and wait until we reach the valley until we let out cries of joy!
10) We plan our tours! Our tour selection should correspond to our skills so that we do not get into alpine emergency situations. We make sure to be back in the valley before dusk.