Holidays with Children in Austria
Feel-good holidays for the whole family
Certified quality criteria guarantee all inclusive feel-good holidays for the whole family. We are a member of the "Kinderhotels in Europa" (children's hotels in Europe) and are controlled by them several times a year on quality and standards. We look after your children from the age of 3 months on 7 days 84 hours per week – from 8.30 (winter) and 9.00 (summer) to 21.00. Children from the age of 2 years may also participate in the supervised lunch and dinner.
Almhof Holiday Guide: How old are your children?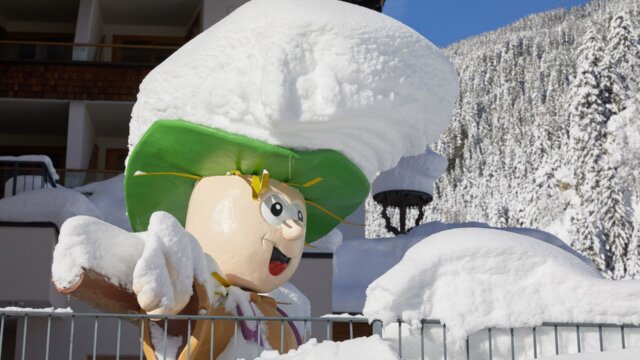 Children's programme with our mascot "Almi"
At the Almhof Family Resort & SPA, there are countless indoor and outdoor facilities to entertain little guests all day, every day, year-round. Join the Almi programme which offers an abundance of children's activities and adventures. Get away from the daily routine and have fun! True to our motto "let children experience nature – inspire children with nature" holidays at the Almhof will leave a lasting impression.
Smiley Offers at the Almhof Family Resort & SPA
Swimming, magic, skiing and lots of activities.
All inclusive
Free ice cream cones and a 24-hour juice bar included!

Baby lounge
"Bambini" babycare for children from age 3 months up to 3 years, baby perfect service, baby equipment, baby food provided by
HIPP
.
Fred's swim academy
Fully qualified instructors will teach children to learn how to swim quickly and easily.
Hocus Pocus Wizard School
Your children will be taught how to perform basic conjuring tricks.
Tiny tots ski school
Learn how to ski in Smiley's tiny tots ski school and in Almi's ski school.
Wellness
Spa facilities, massages and beauty treatments available for children and adults.
Smileyplexx cinema & theatre
Movies on a cinema-sized screen, with Dolby surround sound. Plus stage for live performances.
Teenie club
The ideal space for chilling, playing games, etc.
Single parents with child(ren)
Great offers for single parents travelling with child(ren) all year round.
Smiley's farm
Our farm has horses and ponies, sheep, guinea pigs and rabbits.