Environmental awareness to safeguard the future
For generations there has been an ecological cycle of give-and-take in the alpine regions, but the modern society demands more and more resources of nature. In our "borderless" society "green economy" is often just lip service, however, we have gradually expanded the Almhof in recent years to become an "ecological hotel".
Small hydropower plant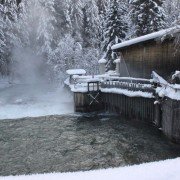 In order to fulfil our responsibility to nature and to our children, we use environmentally friendly energy from a small hydroelectric power plant which we have built with a capacity of 200 kWh.
Natural cooking on our menu
"Gruene Haube Naturkueche" (natural cooking): As an option, we offer menus that are made from natural ingredients. Organic whole grain cereals, vegetables and fruit mostly from controlled biological cultivation and where possible regional and seasonal. Meat comes from biological livestock, fish from local waters. No use of flavours, flavour enhancers or preservatives. We guarantee the highest quality standards and by this we introduce healthy cooking to our "little guests". We also offer menus for guests with allergies and food intolerances. We are controlled by the BIO AUSTRIA GUARANTEE.