Sports & Fitness
Activity holidays to get you moving – we offer a huge indoor sports area set on 300 m².
Being on holidays is a great opportunity to try something new, and working out under professional supervision will improve your fitness effectively. TRX, yoga, indoor cycling, Pilates, barbell training, Nordic walking, morning exercises and many more activities are available throughout the year. Trainer Tommy Sprenger is your fitness coach, personal coach, cross-country skiing instructor, nutrition coach and host. The new fitness studio XXL, the yoga exercising room and the theatre provide over 300 m² for a variety of children's training classes, family sports programmes and fitness courses.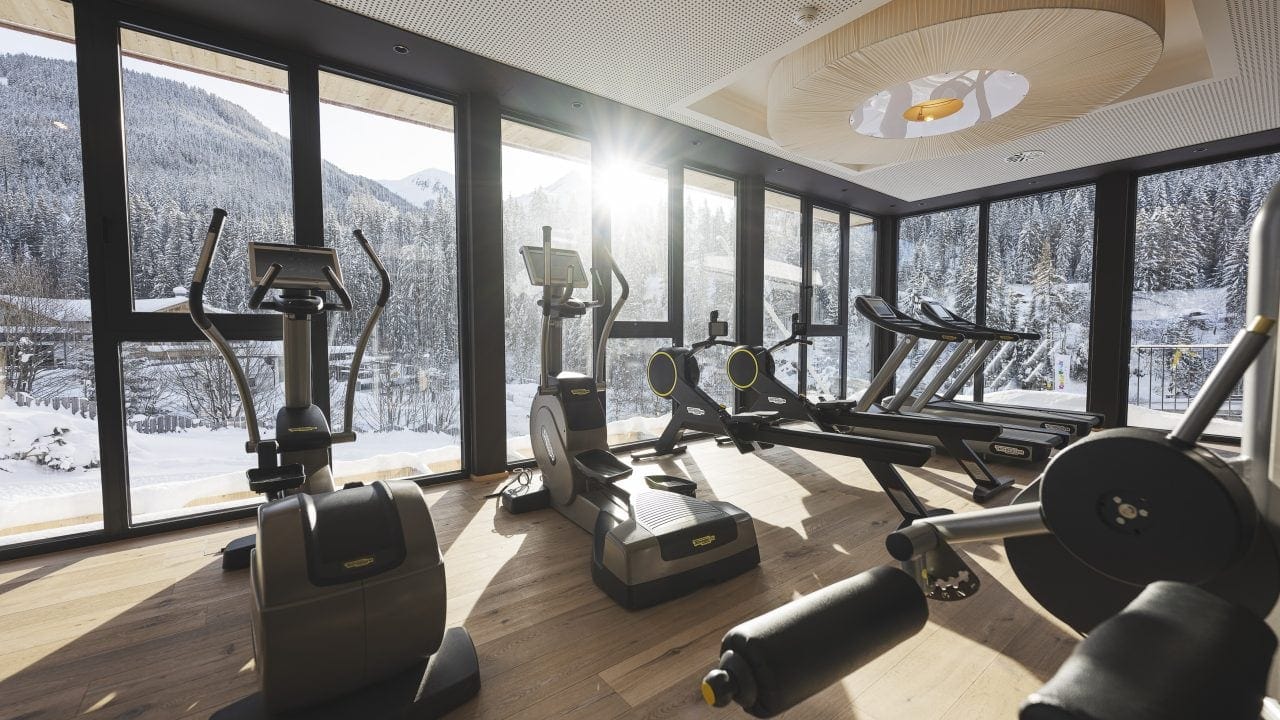 Panoramic fitness studio XXL
In December 2020 we opened our new panoramic fitness studio XXL set on ca. 220m² featuring weight and cardio training, the yoga exercising room and various classes: group indoor cycling, TRX, yoga, Pilates, barbell training and more.
Activity & fitness programme at the Almhof Family Resort & SPA
The following exercise classes are offered almost daily in spring, summer, autumn and winter.
Group indoor cycling with power music & lots of fun
Strength and endurance training
Spinal exercises
Back training with barbells and music
Stretching & loosening exercises
Healthy back
Fascia/Blackroll
Theraband
Pilates
TRX Training
Aqua gymnastics
Qi Gong
Yoga
Yoga for children
Active awakening exercises
Mobility exercises
Mountain bike
Hiking tours
Nordic walking tours
Easy running
Cross-country skiing classic and skating technique
Snowshoeing
Coordination training for children/adults
Please refer to our weekly programme for times and details.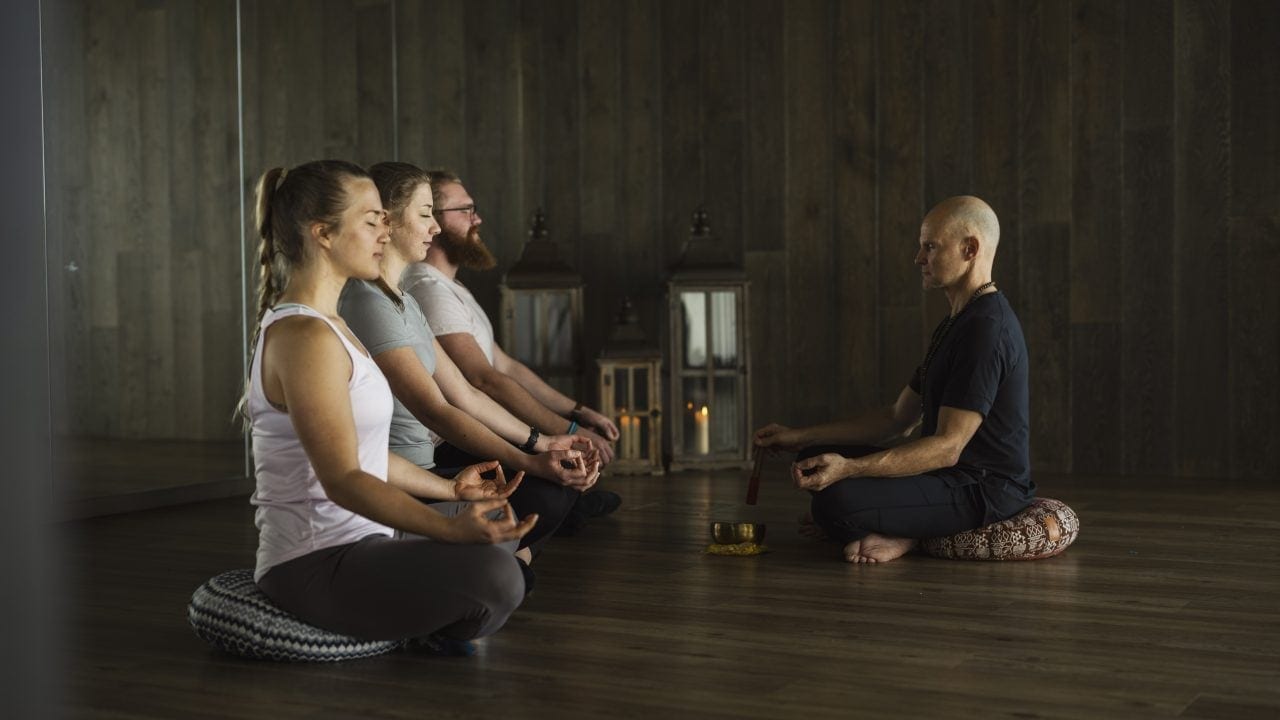 Yoga, Zumba and Pilates special weeks at the Almhof
Experienced trainers of various sports programmes run up to three training units per day. Our guests can join taster sessions or the full programme.
Fitness and Weight Training
The cardio fitness center with its fantastic location – large windows allow a panoramic view of the magnificent landscape – and the yoga exercising room provide everything an athlete's heart desires.
Equipment from TECHNOGYM
2 treadmills , 2 bikes, 2 cross trainers, 2 rowing machines, 1 Line Dual Adjustable Pulley, 1 Line Multipower New, 1 TG Pure Strength Olympic Half Rack, 1 Line Chest Press, 1 Line Vertical Traction, 1 Pec/ReverseFly, 1 Line Leg Extension, 1 Leg Ext/Leg Curl, 1 Leg Press, 1 Dual Abd/Add, 1 Line Ercolina, 1 Crunch Bench, 1 lower back bench, 1 set of dumbbells for ladies, 1 set of dumbbells for men, a multi-power device. All cardio equipment have a monitor and are iPod compatible.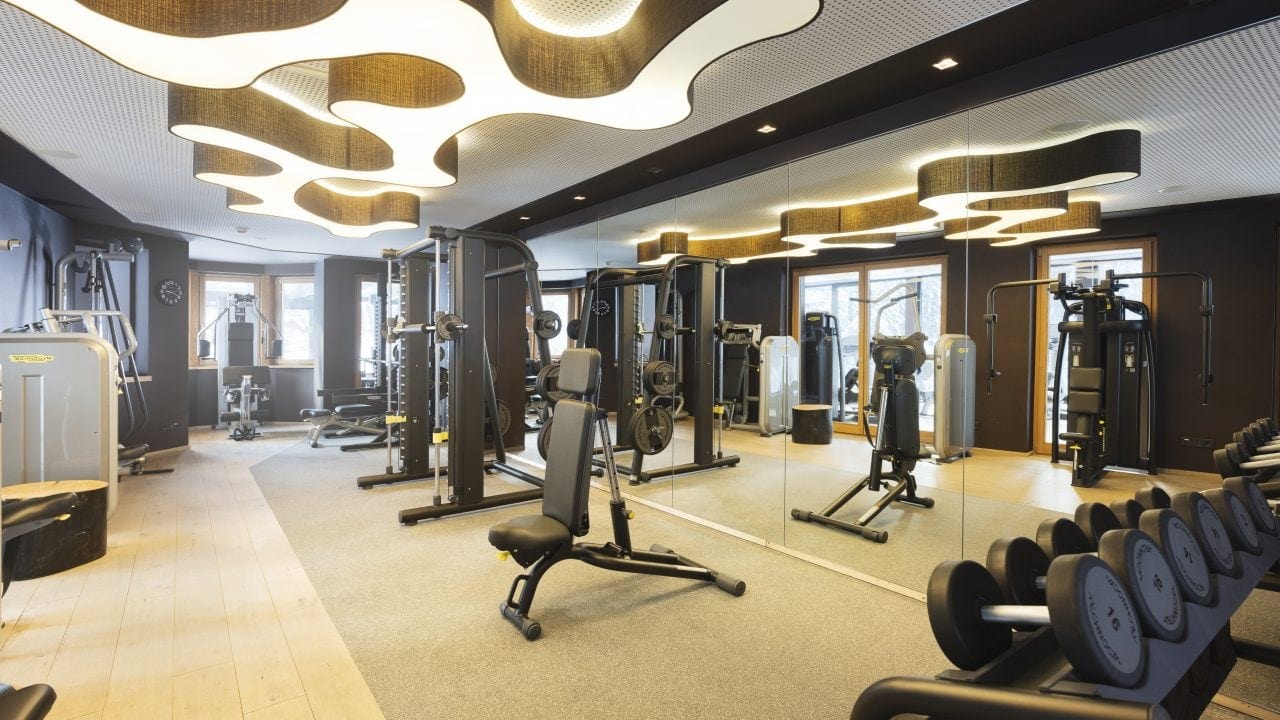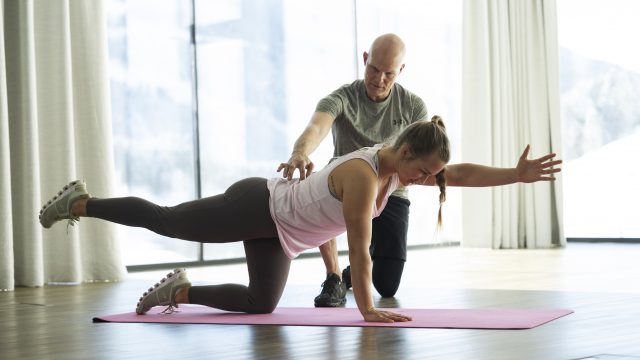 Personal Fitness Trainer Tommy
Are you looking for a trainer to help you with muscle-building exercises, fat burning, back exercises, body-toning, alleviating an injury or weakness, staying fit, or improving your balance? Or are you interested in an introduction to the fitness equipment, would you like a personal training plan, or do you have questions about training, nutrition or food supplements? I will gladly be of assistance and will also help you with cross-country skiing (classic and skating) and show you exercises from my programmes for a stronger and healthier musculoskeletal system.
From December 2020, the new panoramic fitness studio XXL set on ca. 220 m², featuring weight and cardio training, the yoga exercising room and trainer Tommy await.